Addison, Texas, offers a big city feel in a small town area, and proudly ensures its residents are never without something fun and exciting to try every weekend! A favorite attraction for locals and visitors alike is the city's annual Oktoberfest, full of authentic German fare as well as lots of music, dancing, and other exciting events.
After a disappointing cancellation in 2020 due to COVID-19 concerns, Addison residents are eagerly awaiting the 2021 celebration, scheduled for September 16. If you love the fun and excitement of this classic German celebration, check out these 5 "can't miss" events at Oktoberfest in Addison, Texas, you'll enjoy during their upcoming celebration.
1. Bier Maiden Stein Carrying
When you visit any Oktoberfest celebration, it's hard not to notice all the lovely lasses carrying those heavy beer steins to everyone's table. If you think you'd be talented in balancing a few full mugs, check out the Bier Maiden Stein Carrying competition! See how many full steins you can carry without spilling a drop when you compete against other maidens in this fun event. This competition is open to those over 21 only, and a great deal of fun for competitors and onlookers alike.
2. Masskrugstemmen
The ladies aren't the only ones allowed to show off how much beer they can manage at Oktoberfest! Translated as "jug checking" or "jug chucking," the masskrugstemmen competition sees which participant can hold up a full stein of beer the longest. More difficult than it looks but always an enjoyable show, this fun game is also open to over 21 only.
3. German Dog Showcase
Held inside the Paulaner Partyhalle, the German dog showcase features a range of dogs of German origin. While personal pets are not allowed, any dog lover is sure to love this great show of four-legged friends.
4. The Chicken Dance
If you're shy about heading out to the dance floor, visit the main stage area of the Paulaner Partyhalle for an endless chicken dance. This simple dance is easy to follow by anyone no matter your dance skills, or lack thereof! The chicken dance marathon is also a great way for the kids to get into the spirit of Oktoberfest and have fun showing off their skills as well.
5. Beer Barrel Rolling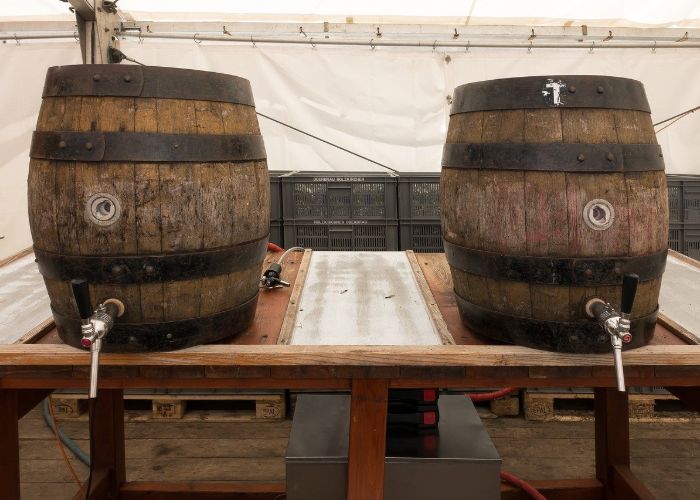 Grab a partner and see how well you can roll a beer barrel between two lines, using just one hand! It's often harder than it looks to control these massive barrels, which means this challenging game is fun for both participants and onlookers. As with all games involving beer, this one is open to those over 21 only.
Oktoberfest also offers lots of kids games, including a German version of "Simon Says" and "red light, green light." The kids can also participate in a child's version of masskrugstemmen, holding a mug of water at shoulder level for as long as possible. There is also a wide variety of performers scheduled, so you're never going to get bored if you visit this year's Oktoberfest!
Plano Asphalt Paving is happy to bring this quick list of 5 "can't miss" events at Oktoberfest in Addison, Texas, for 2021, and we hope you found it helpful. If you're a Plano area business owner, no doubt you're just as proud of your business as we are here at Plano Asphalt Paving. To ensure your property is always safe and attractive for visitors and staff, call us when you need expert asphalt paving in Addison, TX. We use only the highest-quality materials and stand behind all our work with an industry-leading guarantee you can trust.